Environmental Product Declarations are unknown for a great part of the construction industry in Romania, as well as for the general public, despite the benefits they could bring for both companies and ocuppants of built spaces.
Romania Green Building Council is inviting you to the first debate on the topic of benefits and barriers for eco-labeling of construction materials, the next Monday 09 October 2017.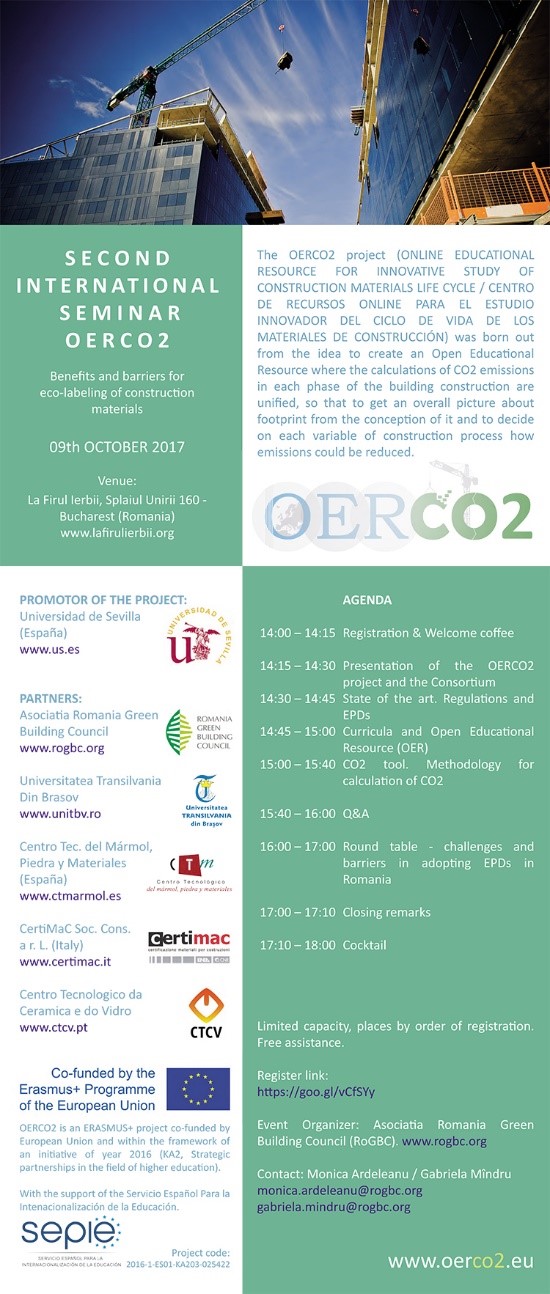 We want to learn from the experience of Romanian companies in this respect and raise awareness of eco labeling for construction professionals.
The seminar is organized within OERCO2 project and will be attended by representatives of all project partners – University of Sevilla (Spain), Centro tec. del Marmol, Piedra y Materiales (Spain), CertiMaC soc. Cons. a r. L. (Italia), Centro tecnologico da Ceramica e do Vidro (Portugalia), Transylvania University of Brasov – as well as Romanian companies that sell at least one eco-labbeled product: Saint-Gobain, LafargeHolcim, Rockwool, Holver, Knauf Insulation, Xella, Dyos.
The seminar will also include a presentation of the project as well as its first results – a report on the status of EPD's adoption in Romania.
14:00 -14:15 Registration & Welcome coffee
14:15 – 14:30 Presentation of the OERCO2 project and the Consortium
14:30 – 14:45 State of the art. Regulations and EPDs
14:45 – 15:00 Curricula and Open Educational Resource (OER)
15:00 – 15:40 CO2 tool. Methodology for calculation of CO2
15:40 – 16:00 Q&A
16:00 – 17:00 Round table – challenges and barriers in adopting EPDs in Romania
17:00 – 17:10 Closing remarks
17:10 – 18:00 Cocktail
Attendance is free, upon registration, within the available space.
More details on EPDs can be found in a report by the European Commission.
Source: http://www.rogbc.org/en/events/icalrepeat_detail/1296/-/international-seminar-oerco2-benefits-and-barriers-for-eco-labeling-of-construction-materials